A Housecoat Remains
Guernica Editions, full length book of poetry, Fall 2015.
A daughter's journey through the slow decline of her mother through Alzheimer's disease.
---
In the Bone Cracks of the Walls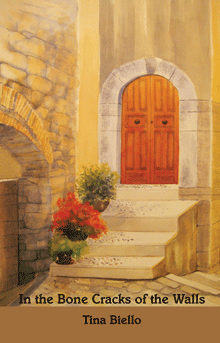 Full length book of poetry with Leaf Press, May 2014, looking at the immigration experience through the eyes of Italian Canadians.
Light lingers. Waits.


In the bone cracks of the walls 


stories whisper…
For more information and to order book: Leaf Press.
---
Momenti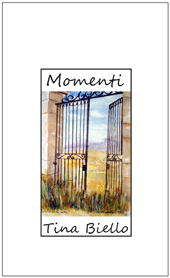 This chapbook, published by Leaf Press, was part of an art exhibition with a watercolour painter from Montreal, Loreta Giannetti. The book was showcased at an art exhibition in Vancouver, 2010, and Montreal, 2011.
These poems have also gone on to be classically composed in a CD selection, Dolci Momenti by two singer songwriter sisters from Cape Breton, Annette Coffin and Marguerite Thorne.
---
Home is Where the Food is
Home is Where the Food is from The Juki Museum on Vimeo.
An animated documentary (2009) following every ingredient of a delicious meal to its wholesome local source. Narrated and co-written by Tina Biello. Made with the assistance of the 100-Mile Diet Society of Vancouver.