Playing Into Silence
Caitlin Press, June 2018.
Growing up during the 50s and 60s in small town Alberta, Pam was keenly aware, by the age of nine, that she was a lesbian. And she also knew well to hide this about herself. Pam would search for books on the "The Island of Lesbos", only to return from the library with a copy of Little Women. In between the vast spaces of dust and dugouts, she grows up and grows old, playing her saxophone in deep, blaring notes. Age is a constant marker throughout these poems for an otherwise long and lonely time of waiting for queer rights, for acceptance, for love.
Poet Tina Biello unearths just about everything from beneath the Alberta ground: dinosaur bones, a family's firstborn, missing cows. A voice from within the Prairies, Playing Into Silence is a look back at a dry time in lesbian identity.
A Housecoat Remains
Guernica Editions, full length book of poetry, Fall 2015.
A daughter's journey through the slow decline of her mother through Alzheimer's disease.
---
In the Bone Cracks of the Walls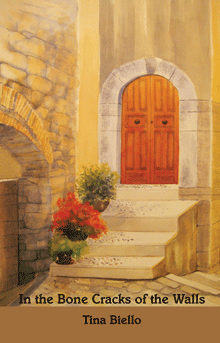 Full length book of poetry with Leaf Press, May 2014, looking at the immigration experience through the eyes of Italian Canadians.
Light lingers. Waits.


In the bone cracks of the walls 


stories whisper…
For more information and to order book: Leaf Press.
---
Momenti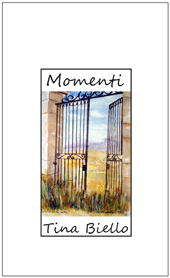 This chapbook, published by Leaf Press, was part of an art exhibition with a watercolour painter from Montreal, Loreta Giannetti. The book was showcased at an art exhibition in Vancouver, 2010, and Montreal, 2011.
These poems have also gone on to be classically composed in a CD selection, Dolci Momenti by two singer songwriter sisters from Cape Breton, Annette Coffin and Marguerite Thorne.
---
Home is Where the Food is
Home is Where the Food is from The Juki Museum on Vimeo.
An animated documentary (2009) following every ingredient of a delicious meal to its wholesome local source. Narrated and co-written by Tina Biello. Made with the assistance of the 100-Mile Diet Society of Vancouver.